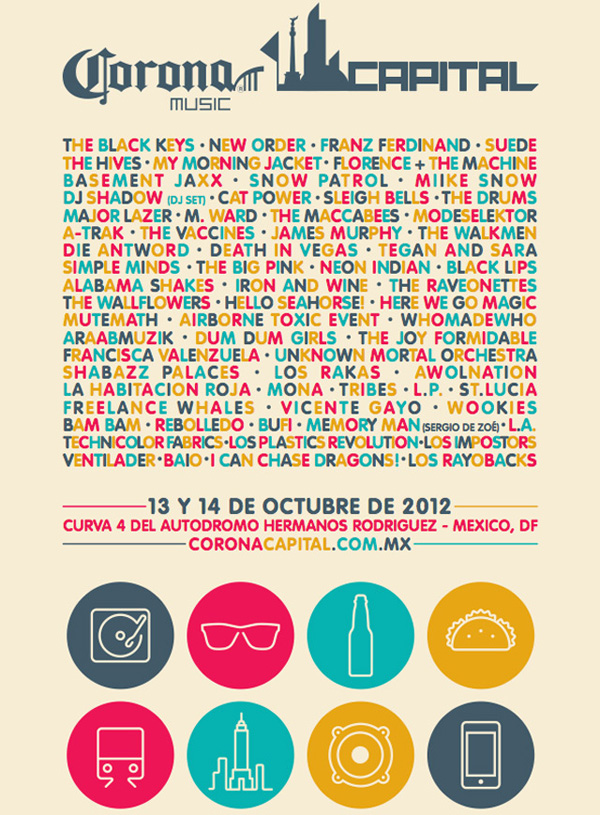 Tras meses de espera, por fin hoy se ha confirmado el line-up oficial del Corona Capital 2012, el cual se celebrará el próximo 13 y 14 de Octubre en el Autodromo Hermanos Rodriguez. Cabe señalar que será la primera vez que el CC se celebrará en dos días.
The Black Keys, New Order, Franz Ferdinand, The Drums, Miike Snow, MUTEMATH, DJ Shadow y Suede son algunas de las bandas que encabezan el cartel del la tercera edición del Corona Capital.
Ojo: La preventa del Corona Capital será los días 6 y 7 de agosto a través de Ticketmaster. La venta al público en general iniciará el 8 de agosto. Los costos van de los 900 por un día, hasta los mil 400 por pase VIP. Abusados por que se agotan los boletos.
A continuación la lista de bandas:
The Black Keys
New Order
Franz Ferdinand
Suede
The Hives
My Morning Jacket
Florence + The Machine
Basement Jaxx Snow Patrol
Miike Snow
DJ Shadow (DJ Set)
Cat Power
Sleigh Bells
The Drums
Major Lazer
M. Ward
The Maccabees
Modeselektor
A-Trak
The Vaccines
James Murphy
The Walkmen
Diw Antword
Death In Vegas
Tegan And Sara
Simple Minds
The Big Pink
Neon Indian
Black Lips
Alabama Shakes
Iron And Wine
The Raveonettes
The Wallflowers
Hello Seahorse!
Here We Go Magic
MUTEMATH
Airborne Toxic Event
WhoMadeWho
Araabmusik
Dum Dum Girls
The Joy Formidable
Francisca Valenzuela
Unknown Mortal Orchestra
Shabazz Palaces
Los Rakas
Awolnation
La Habitación Roja
Mona
Tribes
L.P.
St. Lucia
Freelance Whales
Vicente Gayo
Wookies
Bam Bam
Rebolledo
Bufi
Memory Man (Sergio de Zoé)
L.A.
Technicolor Fabrics
Los Plastics Revolution
Los Impostors
Ventilader
Baio
I Can Chase Dragons!
Los Rayobacks
Más información:
Vía Chilanga Banda.
No olvides seguirnos y comentar en Twitter y Facebook